With Christmas just around the corner (yes, seriously), you're probably worrying about what to buy your loved ones.
Maybe you're thinking of doing the usual, you know, some bath sets, pyjamas, or even a fancy electric toothbrush, all of which will see you get an awkward smile and "oh you shouldn't have" in return.
Well, with how difficult this year has been, why not end it on a high for your loved one and do something completely different? And what better way to say I love you than by treating them with a truly memorable and utterly fantastic gift – a personalised number plate!
Easier Than You Think
Although the idea of buying a number plate as a gift can appear confusing if it's something you've never done before, it's actually very easy.
In this blog, we will provide a full guide on how to buy a number plate as a gift for your loved one. Seriously, it'll blow every other gift they receive out of the water, which is what Christmas is really all about.
How to Buy a Number Plate
Of course, to begin with, you need to know how to buy a number plate.
Well, this process is much simpler than you might imagine, but here is a step-by-step guide on exactly how to do it:
1. Firstly, simply search for your preferred number plate. Or you can give our dedicated sales team on 01642 363738. They'll be happy to chat with you about your ideas and budget, letting you know which plates are available and guiding you on your best options.
2. Once you have found the perfect personalised plate for your loved one, decide how you would like to pay for the rights to this registration, be it credit card, debit card, or whatever else. And don't worry, we have lots of 0% finance options available with a simple application form that gives you an instant decision.
3. You can also purchase the physical plates during the buying process, where you'll be able to select a set of physical plates for the vehicle – with a choice of borders, fonts, and flags. These are manufactured by Jepson & Co, who have been creating high quality number plates for over 100 years and are the oldest plate manufacturer in the country, so it's fair to say they know their stuff. The plates will also be delivered in an unbranded, DVLA envelope, so you have something to wrap up rather than some regular old documents.
4. Then, it's time for the transfer, which is fancy talk for putting the registration onto a vehicle. We can do this for you, or, depending on the registration you've purchased, you can do it yourself with a simple online DVLA service. This makes for easy gift giving as the person you're buying for can put it on their car/van/motorbike/other when you hand over the present.
5. A fresh logbook for your vehicle showing the new registration will then be sent by the DVLA, and once you have that you can put the plates onto the vehicle. However, if you (or the recipient of the gift) has transferred it online you'll get instant confirmation when it's OK to put the plates on, so you won't have to wait for any Christmas post backlog.
6. Then it's a simple case of informing your insurance company and most importantly, enjoying your plates!
And it's as simple as that.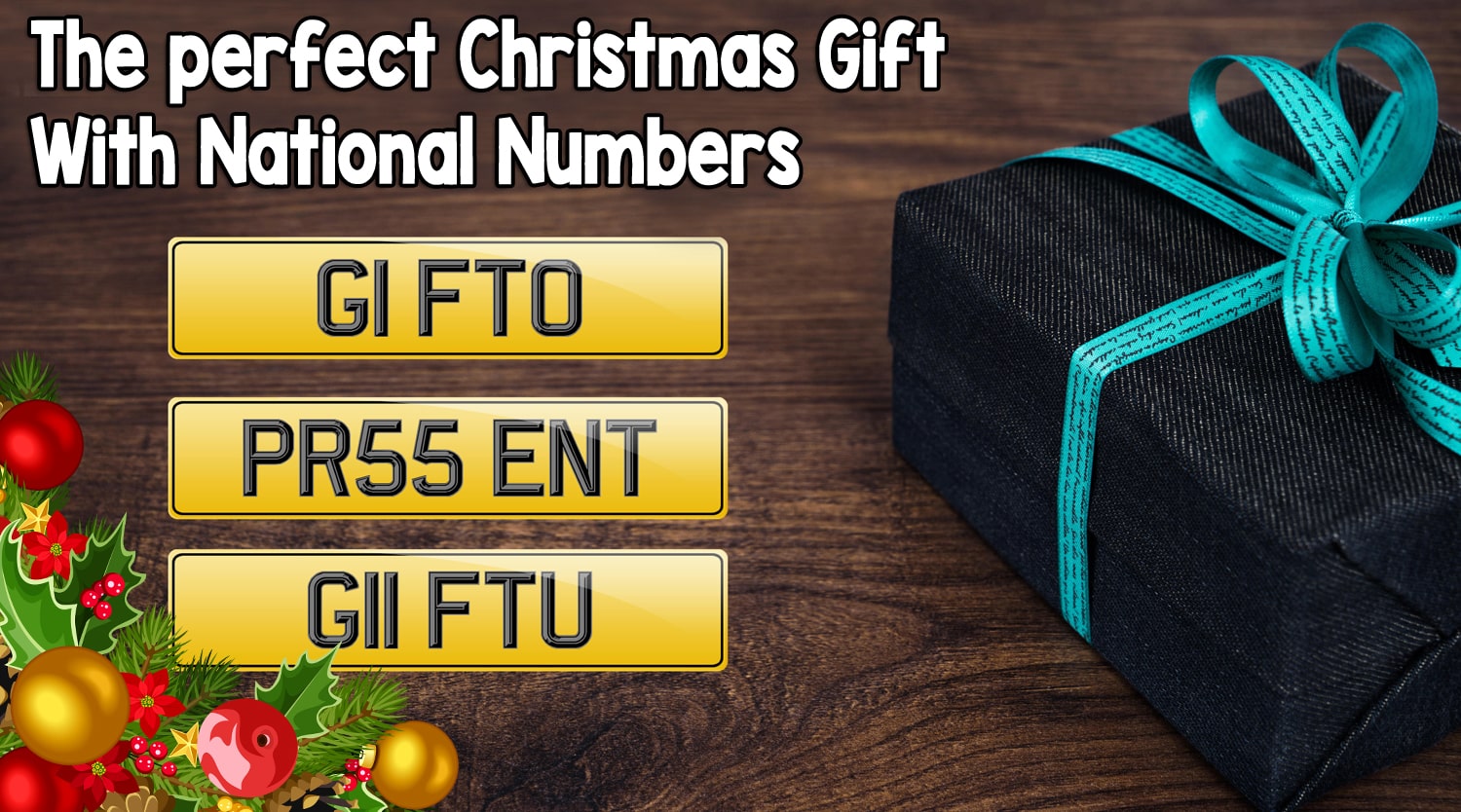 So, with the basics covered, let's take a look at some other queries you may have when buying a private registration, and answer them as best we can.
Do I Need to Pay Now or Can I Reserve a Registration?
You do need to pay in full when you purchase, however, we make this easier for you by providing a 0% finance option across our number plates.
We also accept major credit or debit cards, including: Visa, Delta, and Mastercard.
Alternatively, we can accept payment by bank transfers, and are happy to discuss any other payment method you may have in mind on 01642 363738.
Can I Buy a Registration, Without Assigning it To A Vehicle?
Yes, you can!
When you buy a number plate from us it usually does not need to be assigned to the vehicle straight away - we can often provide you with retention documents if you would prefer. For the most part, registrations can be assigned to a vehicle at your convenience. All you do is follow steps 3 and 4 from the guide, and we are still here to advise you if you have any questions, so don't worry.
Can I Buy Any Personalised Registration?
Absolutely. So long as it has been issued by the DVLA and that you bear in mind a few rules.
The golden rule being that you cannot make a car look younger than it is with a private registration.
Speak to one of our sales advisors on 01642 363738 for help with this.
How Long Does It Take to Assign a Number Plate?
This can vary.
For the most part, your certificate will be with you from 1 to 5 weeks of buying, not accounting for any hold ups that are out of our control (such as Christmas post!). Overall, it's safer to get it done as quickly as possible to avoid any holdups from the DVLA or Royal Mail.
Your plates, however, generally arrive within a week, often before your certificate, which makes for an excellent item to wrap and hand over as a present should any paperwork be held up.
For more info on this, speak to our sales team on 01642 363738, and they will be able to inform you about this and keep you in the loop throughout the process.
Buying a Number Plate as a Gift
Buying a personalised number plate as a gift is an excellent idea, it's thoughtful, unique, and very easy to do.
The process is simple whether it's a gift or for yourself, only when you buy one as a gift, you get the bonus addition of that feel-good factor that presenting someone with the perfect gift provides!
To keep it discreet, when speaking to our sales team just mention that the registration will be a gift, and they'll ensure your surprise won't be ruined. All documents and acrylic plates are dispatched in plain packaging as we understand that there's nothing worse than a surprise being spoiled.
The biggest worry you will have in this process is choosing what to put on the plate!
Get in Touch
And that's about it. Simple, isn't it?
If you would like further information or to speak to a sales advisor about the process in more detail, then give us a ring on 01642 363738. Our team are experienced, knowledgeable, and are more than happy to chat through any ideas you have, offer you guidance, or inform you further about the process of buying a plate.
If you would prefer to browse yourself, you can simply search for your perfect reg among our enormous range of number plates.
We have over 73 million plates currently available with new additions every single day. We also offer 0% finance across all our registrations, with an instant decision made online, so get in touch to find out more on 01642 363738, or have a browse of our massive stock of number plates.
---
Buying a personalised number plate as a Christmas gift is as straightforward as that!
So, what are you waiting for? Surprise your loved one this Christmas with the best gift they're likely to receive in a long time.