It. Is... Chrriiiiiistmaaaaaaaaaaaaas! Ish.
Okay it's November, but we've definitely seen loads of Christmas decorations up around Billingham and heard plenty of mentions of Christmas lists in local shops and on Facebook.
You yourself may be one of those people who starts celebrating as soon as Halloween ends. Or you may be a bit of a Grinch who panic-buys everything on Christmas Eve, thinking a bottle of booze will do the trick rather than anything too thoughtful.
Don't be that second person! Get your loved ones something they'll cherish and absolutely love this Christmas. Get them a private registration. And get it just in time for Christmas by buying yours today with National Numbers.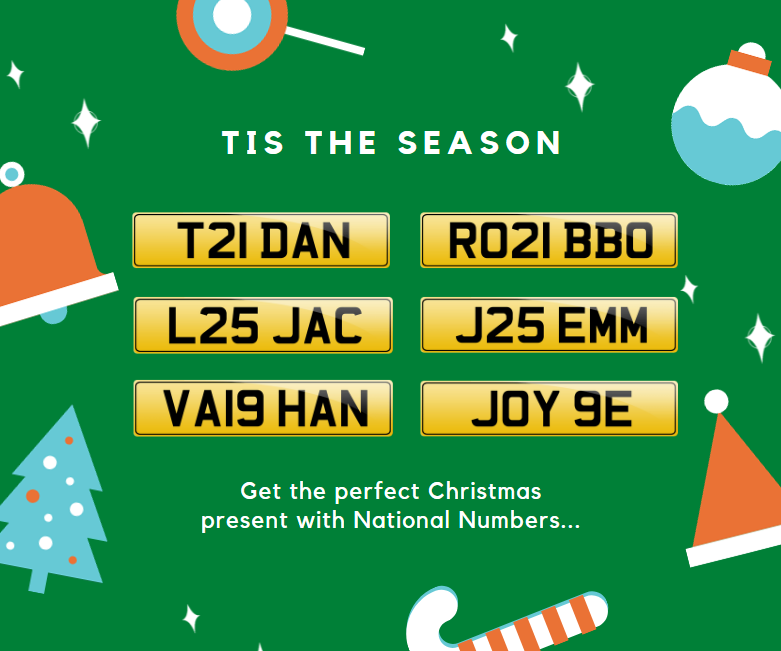 But first, let's take a look at the process and explain just how easy it is to get a fantastic number plate gift.
What's The Process for Buying a Private Number Plate?
The process for buying a number plate as a Christmas gift is extremely simple, and we're here to guide you through the entire process from start to finish.
Let's jump in with a basic overview of how to buy a number plate and see how you can get yours in time for Christmas.
How Do I Buy a Private Number Plate?
Firstly, you need to make sure you use a reputable number plate dealer, and don't use anybody from eBay, Facebook Marketplace, or Gumtree. There are lots of pitfalls to purchasing with private sellers, so it's best to use an accredited organisation with experience and expertise.
With that out the way, let's walk you through the plate buying process and answer the question: How do I buy a private number plate for Christmas?
Step One
First of all, you need to pick a plate. You can do this by searching a word or initials you want that means something to the person you're buying for.
If you can't find anything or need a bit of help, you can give our sales team a call on 01642 363738. They'll guide you through the process and find a private registration within budget and to your, or the person you're buying for, taste.
Step Two
Next up is to decide on payment. You need to figure out which payment method you want to use to pay for the rights to the private registration, whether it's credit or debit card, cheque, or bank transfer.
This step can be daunting when the price is on the screen, but we can help spread the cost of your private registration with loads of 0% finance plans available. Our finance application is super-simple, and you get an instant decision.
Step Three
Once you've decided on a car registration, you need to think about the literal, physical number plates that you'll need to go with the rights to the car registration.
We can provide the physical plates during the buying process, so you can choose the perfect set of number plates for your loved one with a choice of borders, fonts, and flags available.
The number plates we provide are manufactured by Jepson & Co, who have been creating high quality number plates for over 100 years and are the oldest plate manufacturer in the country. The plates will also be delivered in an unbranded envelope, so you have something physical and exciting to wrap up as a gift, rather than boring paper documents.
Step Four
Now, it's time for the transfer, which is basically putting the number plate onto the vehicle in question. At National Numbers, our team can do this for you, or, depending on the registration you've purchased, you can do it yourself with the DVLA's number plate transfer service.
You can do it or get the recipient to do it easily enough, if for example, they have a few vehicles to choose between for their new private registration.
Step Five
Once all that's done, a new logbook for the vehicle showing the new registration will be sent out to you by the DVLA. Once you have that, you, or your loved one, can put the physical number plates onto the vehicle.
It's worth remembering that if you (or the gift recipient) has transferred the rights to the registration online, then you'll receive instant confirmation when it's OK to put the plates on. This means you won't have any delays due to a Christmas Royal Mail backlog.
The Final Step
And finally, it's a case of informing your insurance company about your new car registration and enjoying your new private number plates!
See, we said it was easy, didn't we? In fact, it's never been easier to buy private number plates online.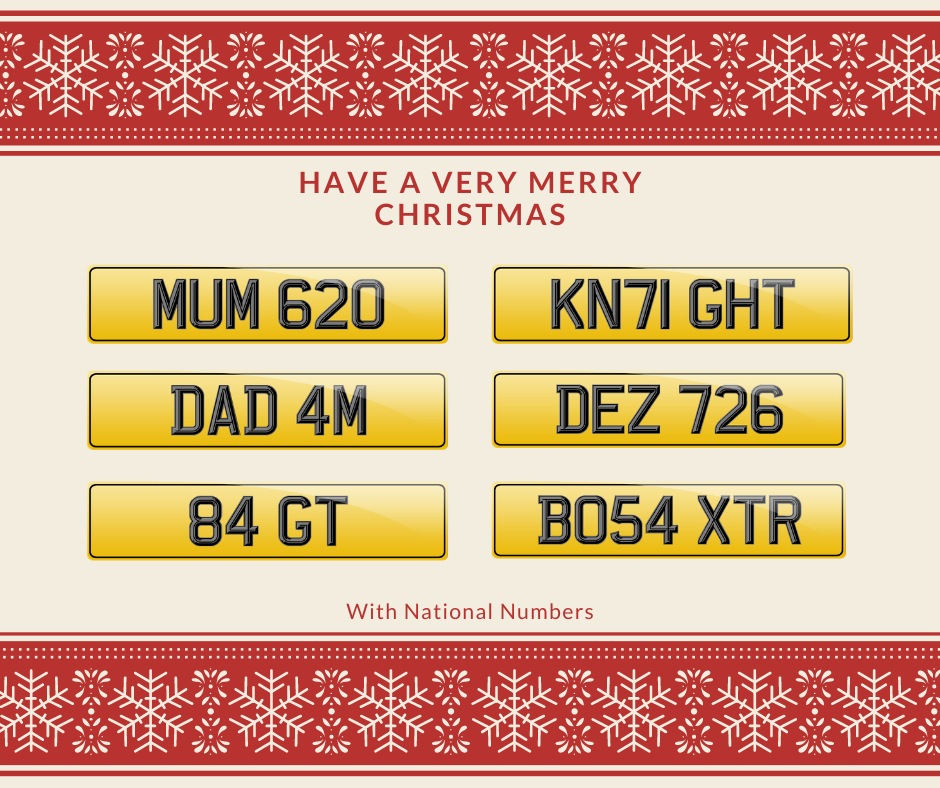 And while this is definitely the case, we do still get a lot of questions asked about buying personalised registrations, so let's take a look at some answers to those burning queries.
Can I Buy a Registration Without Assigning it To A Vehicle?
Yes. When you buy a number plate, and it does not need to be assigned to a vehicle instantly. Number plate dealers can generally provide you with retention documents if you'd prefer to assign a registration to a vehicle later.
How Long Does It Take to Receive a Number Plate?
Generally speaking, your certificate will be delivered between 1 and 5 weeks of purchase. This doesn't, however, take into account delays with the post or delays with the DVLA.
With National Numbers, more often than not your number plates arrive within a week of buying them, often before your certificate. This gives you plenty of time to get them wrapped up in time for Christmas, but as we said, there are often delays this time of year with Royal Mail so best get purchasing as soon as possible.
For more information about assigning a number plate, speak to our sales team on 01642 363738, or visit our dedicated Assignment of a Private Number to a Vehicle guide.
Do I Need to Pay Instantly, or Can I Reserve a Private Registration for Later?
You do need to pay in full when you buy a private number plate, and we can't hold on to a personalised reg for you to buy further down the line.
If affordability is a problem when it comes to buying a private registration, we do offer a range of 0% finance options for our customers. This helps you spread the cost of your personalised registration if you can't quite afford to purchase in one go.
We also accept major credit or debit cards such as Visa, Delta, and Mastercard, as well as bank transfers.
Can I Buy Any Personalised Registration?
Pretty much! As long as it's legal, of course. It needs to have been issued by the DVLA in the first place, for example, and you can't make your vehicle look newer than it is with an age-identifying number plate.
We answer this and loads of other private number plate-related questions in the National Numbers FAQ page.
An Overview of Buying a Private Plate as Christmas Present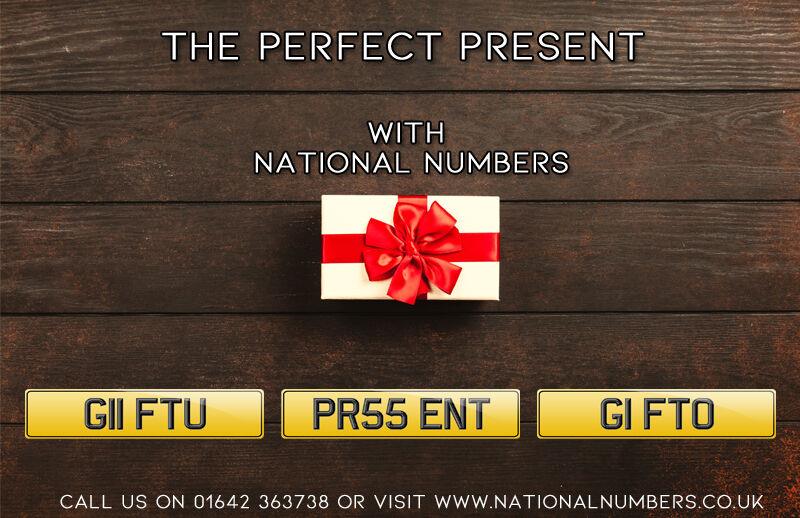 Without being biased of course, buying a personalised number plate for a loved one as a Christmas present is an excellent idea. It's thoughtful, unique, and as you now know, a very simple process.
We've now covered pretty much everything you need to know when it comes to buying a private number plate as a gift, but if you're worried about anything else then please don't hesitate to get in touch and ask our sales team. Give us a ring on 01642 363738 for more information.
Oh, and if you're wanting your gift to be as discreet as possible, all number plate documents and acrylic plates are dispatched in plain packaging as standard, so you know the surprise won't be ruined!
Search For Your Perfect Plate with National Numbers
If you would prefer to search for a private number plate yourself, you can do so at the National Numbers website quickly and simply.
National Numbers has over 67 million number plates to buy online with new registrations being made available every day. We also provide our customers 0% finance on pretty much every private reg we have on our website, and we give you an instant decision to avoid any unnecessary stress or waiting times.
Take a look at our massive range of personalised number plates today, and get a loved one the absolute best Christmas present they're likely to receive – a private number plate.