Are you ready for the 72 number plate release? You better be!
2022 has brought about a whole host of changes. Most of them bad. But there's one reason to be cheerful about the new year and that is the 72 series number plate release.
In this blog, we'll look at everything you need to know about the upcoming DVLA number plate release, from release dates to how to make a purchase and more. Let's begin with the all-important release date.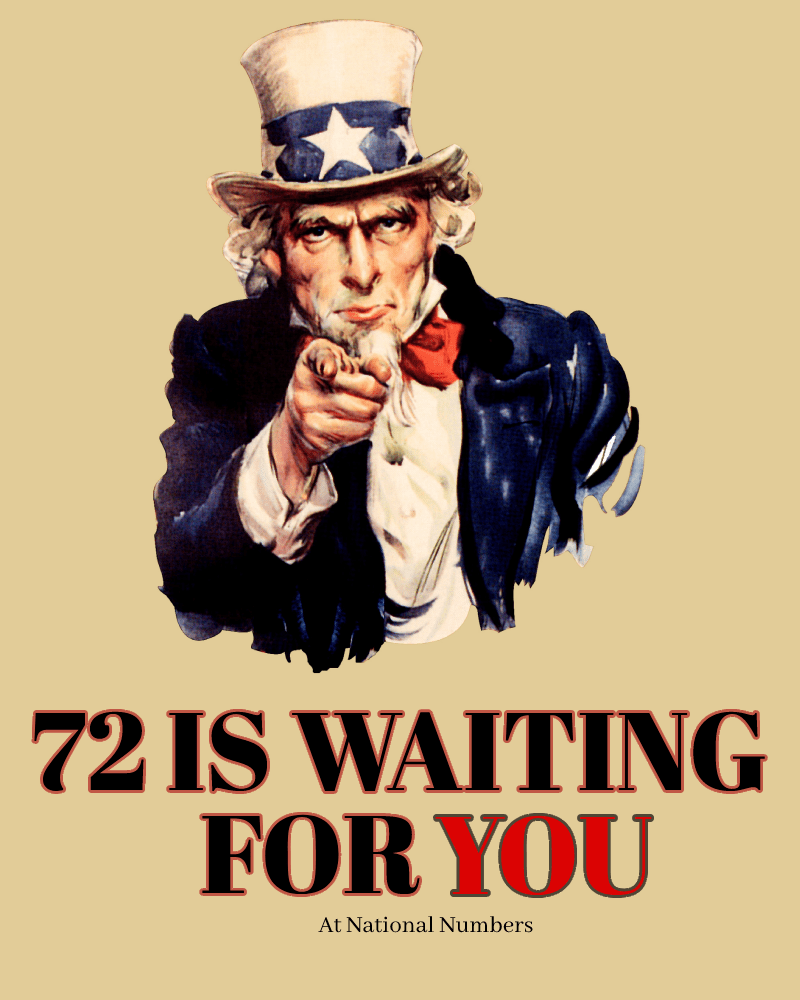 When is the 72 Series DVLA number plate release?
The 72 series number plates will be released by the DVLA in May of 2022, with millions of new registrations being added to circulation for UK drivers.
The sheer number of new number plates being released (more on that later) means that you're pretty spoilt for choice when it comes to deciding on your perfect 72 registration. And best of all? This influx means that loads of new variations of names and words are becoming available for the first time ever.
How do I buy a 72 series number plate?
As always, you're best off using a professional, reputable number plate dealer if you're looking to secure a brand new 72 series private number plate. One with lots of experience and loads of excellent Trustpilot reviews, and one with a reputation based on trust and providing a fantastic service.
It's probably no surprise that we're talking about ourselves, National Numbers, and with over 40 years-worth of experience in the number plate industry, we're your best bet for securing that perfect 72 plate for your vehicle.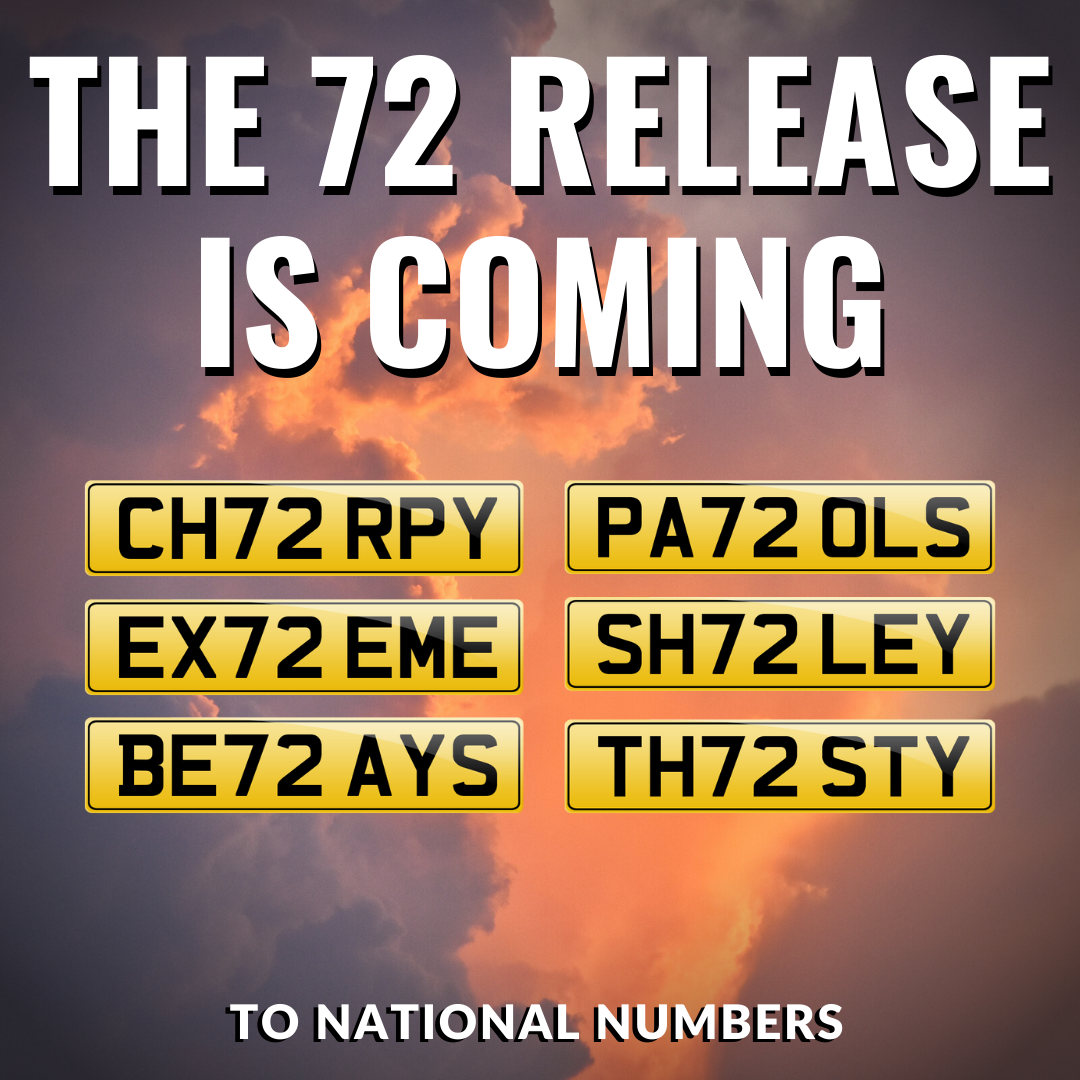 How much does a 72 number plate cost?
That all depends on the characters you choose, of course! We've got loads of options to choose from and you can pick your perfect plate using our 72 number plate builder.
Better yet, give us a ring on 01642 363738 and we'll help you register your interest in the ideal 72 registration. We're here to provide all the information you need regarding pricing, availability, and more, and we can answer any and all questions you have about your order. We also have a range of 0% finance options available on pretty much all our number plates so you can spread the cost of your brand new personalised registration.
How many 72 number plates will be released?
A lot! To be specific, there'll be around 8,000,000 new 72 number plate combinations made available in 2022, which is a whole lot of 0s and a whole lot of options for those looking to bring their car to life with the perfect personalised number plate.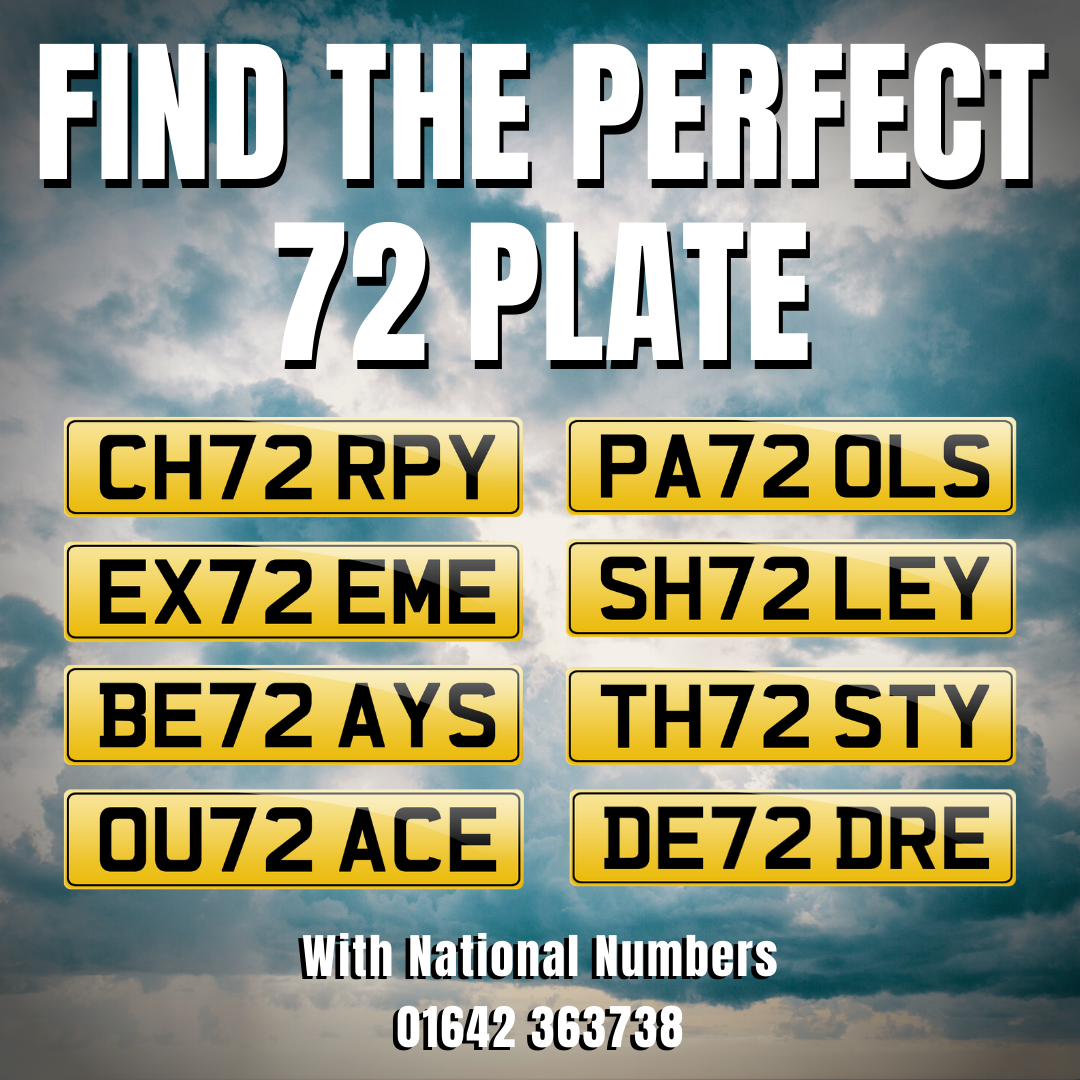 How to order a 72 private registration
With National Numbers, there are lots of ways of registering your interest in a brand new, 72 series private number plate. First, you can visit our website and enter your preferred 72 number plate combination. We have an on-site number plate builder to make the process as simple as possible.
Also available on our website, you can take a look at a range of 72 number plate suggestions to give you that inspiration you need to make a decision. Visit our dedicated 72 number plate page for more information and ideas on which reg to go for.
And for that personal touch, you can call our fantastic sales team on 01642 363738. We love helping customers with their purchases and talk you through the entire process, leaving no stone unturned. Our reputation in the industry is fantastic for a reason, and we've been finding customers in the UK their ideal private registrations for over 40 years.
Get in touch to find out more and find that perfect 72 series number plate today.