There are loads of reasons to bag at least one private number plate for your business.
Whether it's boosting trust, increasing brand awareness, or simply putting a smile on a customer's face, today we'll take a deep dive into the benefits of business number plates. We'll also look at a company that's gone all out with their personalised registrations and explore how it's helped their brand.
Oh, and we'll tell you the best place to buy private registrations for your business vehicle(s).
Five benefits of private registrations for businesses
Brand awareness
While doing your job well will increase your local reputation, digital marketing is a totally different kettle of fish. As a result, gaining brand awareness online can be tricky, especially for those in competitive industries.
A private registration, however, gives you the chance to go viral. How do we know this is true? Well, the carpet cleaning London Company Carpet Bright UK recently had some fun with one of their business vehicle registrations, as you can see below.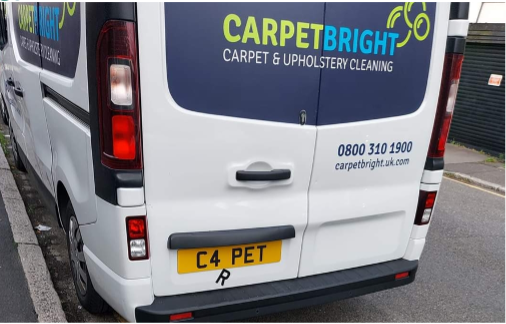 This dropped R carpet car reg led to a wave of publicity, with over 50,000 likes on Instagram and Facebook and a range of articles.
It also led a traffic police officer to pull the driver of this van over when it was spotted out on the road. Instead of penalising them, however, the officer took photos of the registration and commended its ingenuity, which shows the kind of effect a clever reg can have on people.
Make an impression
Nothing quite gets people talking more than a private reg on a business vehicle, especially with your customers. Whether it's making them grin, impressing them, or giving them a bit of a chuckle, this impression could lead to more recommendations for your company and crucially, more work.
An effective advertising tool
Your vehicle has the potential to be seen by thousands of people every day. It's why you'll probably have your van or car branded up - because it's an effective form of passive advertisement achieved by simply driving around.
A private number plate for your business takes this up a notch and gets people talking even more than a branded vehicle. At the very least, you'll get some heads turning and photos being taken, and at best, you'll have people remembering and using your company when they need your services.
Show off your personality
Branding is all about showing that your business has a personality. This increases loyalty from your customers and demonstrates that you have that human touch.
With a personalised number plate for your business vehicle, you can show that your business has personality in spades. The result of this could be increased recognition and an accurate portrayal of what you're all about as a brand, not to mention more interest and more sales.
A great investment
If God forbid, your company goes under, you'll always have your private registration to sell as an asset. You might even find that your plates have become so popular that people will make offers for them while your business is still operating.
Why? Because even if it's not an expensive reg, to begin with, it could reap dividends in the future because private number plates usually increase in value over time.
The proof is in the pudding – business number plates in action
Recently, we wrote an article about dropped number plates, which was inspired by a registration we spotted on one of the UK's roads.
The registration in question belonged to Carpet Bright UK, the largest carpet cleaning company in the UK. So, we spoke to them about their dropped registration and to see if they have any more business private registrations in their arsenal.
As it happens, they do.
The company started buying private registrations for its business vehicles back in 2017, with the first one they purchased being STA 11N. After lots of comments and fantastic feedback from customers, they realised the potential of private number plates as an advertising tool.
Now, they have more than ten private number plates within the company, with a collection that's constantly growing. In fact, Carpet Bright UK sets aside a portion of their advertising budget specifically for buying new personalised number plates, which we highly recommend for businesses of all shapes and sizes.
Take a look at one of their finest reg, ST61 NED below.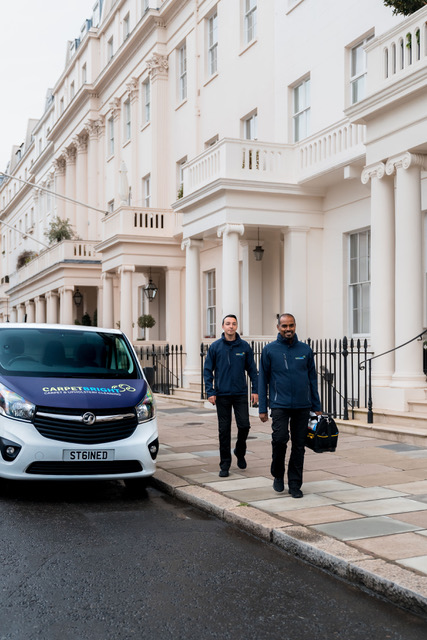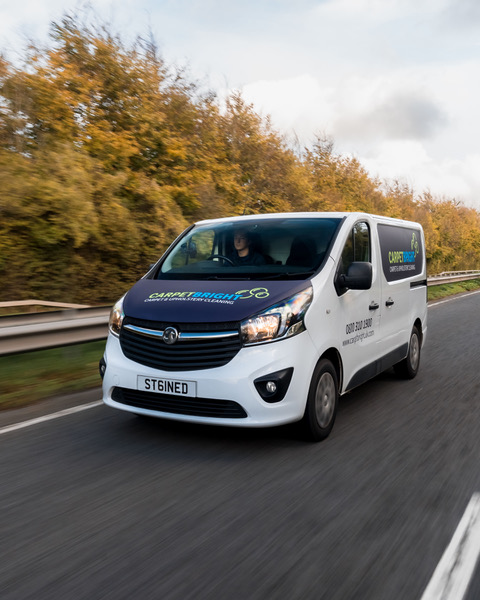 They also have STA 11N, HO08 VER, C4 PET, AB19 RUG, ST64 MER, ST64 MED, DU57 RUG, and more on their vans, which you might have seen yourself if you're in the London area.
Buy private registrations for your business with National Numbers
As you can see, business number plates are a brilliant tool for businesses in almost any industry, but where do you buy a private reg for your company?
At National Numbers, we have over 73 million number plate combinations available to buy online, over 40 years of experience, and some of the most knowledgeable number plate experts in the UK.
We're one of the oldest and most trusted number plate dealers in the country, so if you're in the market for a business private number plate, you've come to the right place.
Search your business name or initials on our website or call our expert sales team on 01642 363738 for inspiration.